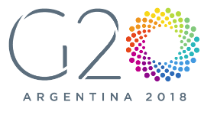 Argentina will be the focus of the world this weekend as the G20 meets in Buenos Aires. For Americans, the stakes couldn't be any greater as President Trump and Chinese President Xi Jinping will most likely have a discussion to resolve the current trade war. Tariffs are a spectre looming over the economy and markets over the last two months, causing the Dow Jones Industrial Average and S&P 500 to lose roughly 6% since early October.
I think US markets in 2019 will probably focus on 3 things:
Tariffs = We've already seen the impacts of the trade war. GM has announced layoffs, & Ford's recent earnings report showed that their profits were negatively affected by $1 billion. We're facing a stronger dollar, which theoretically makes imports cheaper & exports more expensive. While fair trade is the stated end goal, the short term impact on stocks is clearly negative due to a lack of clarity for cost control, especially for companies with significant international exposure.
Tax reform = The 2018 midterm elections resulted in a split Congress, as many thought it would. The Tax Cuts and Jobs Act of 2017 (TCJA), along with spending bills, was projected to expand the deficit by the Congressional Budget Office. The budget deficit was roughly $782 billion in FY 2018. The TCJA was sponsored by the GOP, and was unpopular with Democrats. Now that the Democrats have control of the House (& would chair the House Ways & Means Committee, where tax bills start), I wouldn't be surprised to see tax reform come up again, although I also wouldn't be surprised if it were to be put on hold for political & economic reasons. Economic growth concerns could make this a sensitive issue for 2019, especially since by mid to late 2019 we'll start to hear from potential candidates for the 2020 Presidential election, and increasing taxes going into an election may not be the most popular move.
Brexit =

Yes, Brexit.

I'm reminded of the infamous line from The Godfather Part 3.
Click here for an explanation of what Brexit is all about, and where things stand. In short, how the UK exits the EU will have a significant effect on international markets, which has already declined approximately 12% YTD (vs DJIA and S&P still being about +2% YTD). The performance gap between international developed markets and US markets has been widening since May, but has accelerated in recent months. Brexit & tariffs have helped strengthen the dollar and create the previously described results for imports & exports.
Some of you may be saying what about the Russia Investigation? In my opinion, it could be a factor but will probably just be noise. The only way I think it would be anything more is if both President Trump & Vice President Pence were not only impeached, but also removed from office, making Nancy Pelosi the President (as likely Speaker of the House) and giving the Democratic party control of Washington. Again, all of this is highly unlikely, which is why I don't think that Russia will be a major factor for investors in 2019.
Resolving the three issues above would help investors re-focus on the fundamentals supporting the economy, which are still doing well, and can continue to with prudent, thoughtful support.
To learn more about how you might be impacted by these events, schedule an Introductory Call by clicking here.